NICE has taken steps to enforce the highest food safety standards in the industry. Specifically, it implements a HACCP of production and distribution activities to ensure that this ice is ice that you can trust. The company undergoes annual inspections of production facilities and practices by independent food safety inspectors.
The popular ice cube. This cylindrical ice cube is manufactured by American technology and its shape has a void at its midst, it is ideal for cocktails and drinks. Produced in two sizes with different dimensions. 1) Ice tube (40 x 27) and 2) Ice tube (45 x 35). Available in packs of 1,2 kg and 5 kg.
Three dimensional ice columns. Recommended for a volumetric three dimensional decorative ice sculptures. Produced on demand to the desired proportions.
Spherical ice with an excellent melting process, perimeter 4.5 cm, exclusively from NICE. Ideal for cocktails and drinks. Available in packs of 16 pieces.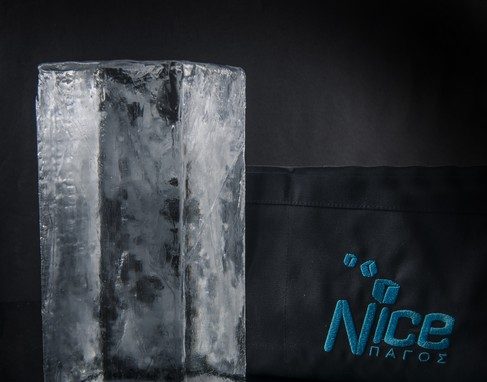 Ice block of three dimensions. Used for ice sculptures and ice decorations and can be produced according to your needs.
Premium ice from NICE. The unique Nice cube is the best choice for a drink, providing maximum enjoyment. Available in packages of 6 pieces. Dimensions 5 x 5 cm.